Purpose
Useful for lowering intake air temperatures by injecting water or other fluids and injecting to increase fuel octane to reduce and or eliminate pinging/detonation etc. Helps make more horse power. 
--
--
Water/Methanol for High Compression Naturally Aspirated and Forced Induction Gas 
Boost dependent (Kit PN 30-3300) for forced induction vehicles up to 35 PSI of boost. The Boost Dependent controller has an on-board manifold absolute pressure (MAP) sensor with a molded-in nipple for a boost hose pickup.
Robust, Easy to Use Controller Designs The new controller designs feature large, turn-resistant knobs and larger numbering to easily set accurate start and full activation points, with covered status LED and test buttons for added splash resistance. A plug is integrated into the controller housing for mating to the redesigned wiring harness's positive-lock connector. The Boost Dependent controller housing has a molded-in, barbed nipple to accept a boost hose and a wiring legend on the back. The Multi Input controller has an easy-to-remove plug covering the programming dipswitches and a programming legend on the back for the 0-5v and frequency based settings. Both controller housings feature an easy to access integrated fuse and molded mounting tabs.
Boost Safe Feature These new controllers retain the "Boost Safe" injection failsafe system, which is an output that will activate if there is a short, loss of continuity or high or low voltage or low fluid condition, allowing users to define their failsafe strategy from something as simple as flashing a warning light to more advanced strategies like pulling boost or ignition, or switching fuel maps on a standalone engine management system.
Simplified Wiring The new wiring harness is terminated with a positive-lock connector on one end and has color-coded wires to ease installation. An integrated Pump Ground circuit is included in the harness which simplifies the wiring process and eliminates any chance of the pump accidentally activating from a short in the system. An additional wire is included for adding an optional on/off solenoid to stop fluid flow when the system is inactive.
Improved Injector Flow Rate & Nozzle Sizes AEM's engineers spent extensive time revamping the controller's flow control strategy for a more linear flow output delivery. This means that the flow delivery better matches an engine's need for water/methanol injection, which further optimizes charge air cooling and detonation control. Three resized injector nozzles are in each kit and allow for improved flow capability (a flow graph is available on our website).
New Low Level Fluid Indicator A more accurate, conductive low level fluid sensor is integrated into the tank and features a positive lock connector with color-matched wires to the wiring harness. The sensor eliminates any chance of incorrect readings due to interference from debris.
Controller Features: 30-3300 Boost Dependent kit (up to 35PSI) includes molded-in nipple for boost hose 30-3350 Multi Input kit for high compression naturally aspirated and forced induction applications Large adjustment knobs and numbering for easy programming Covered status LED and test button for improved splash resistance Integrated plug for mating to positive-lock connector on harness Integrated fuse and mounting tabs
Features:
Terminated harness features positive lock connector with integrated pump ground circuit and additional wire for optional on/off flow solenoid
1 Gallon tank with built-in conductive low fluid level indicator
Includes "Boost Safe" readiness failsafe system
One machined billet injector with integral check valve to prevent unintended flow
Three interchangeable injector nozzles to cover a wide variety of HP levels (250cc/min, 500 cc/min & 1,000cc/min)
Recirculation-style pump with integral fittings for quiet operation
LED dash light for system status and low fluid warning
20 ft. of high-pressure Nylon injection tubing
Disclaimer/Notes
This part is legal for sale or use on Racing Use Only Vehicles
The following vehicles are considered Racing Use Only Vehicles:
Racing Use Only Vehicles are vehicles that are used exclusively for competition that are not registered and that may never be used on the street.
WARNING: It is against the law to install this part on an Emissions Controlled Vehicle

MR2 Experts - 20+ years of experience.
Largest MR2 Parts Collection in the World
Have ideas, need something, have suggestions or questions? Hit us up!

Sales@MR2Heaven.com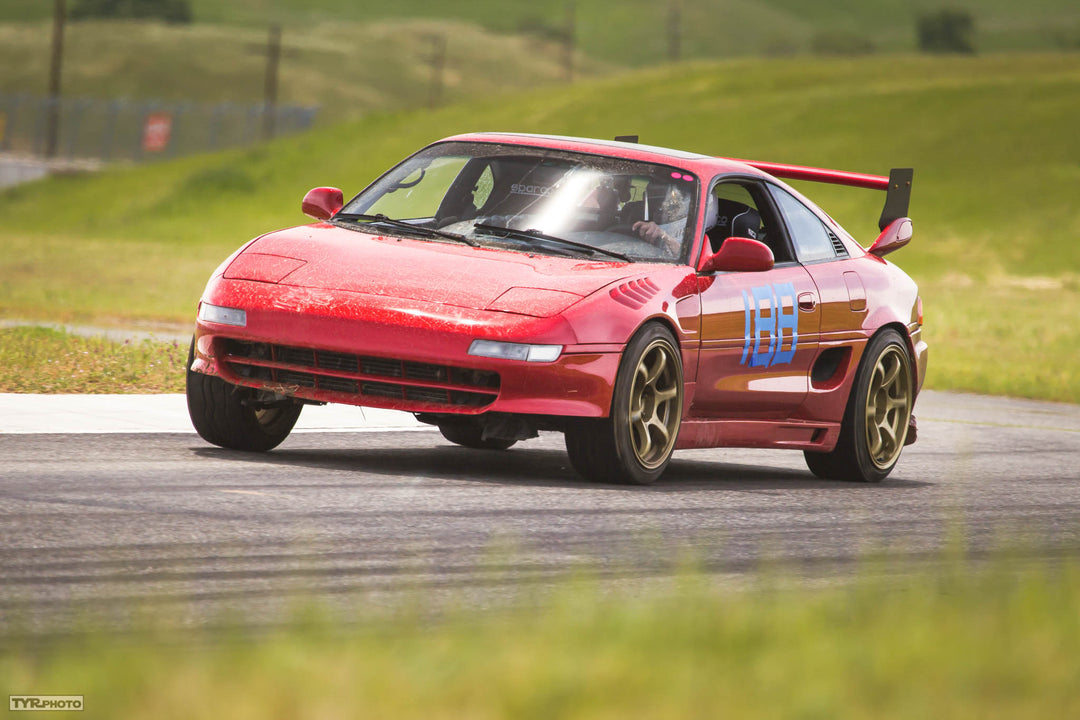 Passion drives everything we do at
MR2Heaven
Since 2002, we've been working to improve almost every aspect of the Toyota MR2, whether it's restoring it to its former glory or increasing its performance, efficiency, or style.
Our team of experts offers a wide range of OEM and aftermarket parts, as well as our own unique designs and engineering that can't be found anywhere else. We're dedicated to providing the best products at great everyday low prices and supporting the Toyota MR2 community with high-quality products.
If you have any new ideas, let us know – we're always looking for ways to bring your vision to life. Thank you for choosing MR2Heaven for all your Toyota MR2 needs.