Purpose
Polyurethane motor mounts reduce engine movement/energy wasted, wheel hop, helps enhance your driving experience, better shifting, sportiness, better throttle response and more connected to the car feeling as well as better transmit/increase torque and horsepower to the wheels.
However the problem for MR2 chassis is when using full solid polyurethane mounts, users are reporting extreme levels of NVH (Noise, vibration, harshness) within the interior cabin to the point where driving is simply dreadful and annoying -  imagine the droning sound of everything vibrating intensely in your cabin regardless of RPM. This is where our solution comes in.
Our polyurethane mounts are sandwiched in next to your original rubber mounts. By doing so creates a hybrid of rubber and polyurethane and this greatly helps reduce engine movement while producing negligible NVH if any. Aside from performance benefits gained, these poly inserts also helps prolong and extend the health of your motor mounts and also helps bring life back to your worn rubber engine mounts. The result? Perfection. 
With neglected/worn out rubber mounts, our 3SGTE motor is commonly twisted to the point where things break, such as support brackets, intercooler piping popping loose, exhaust pipe welds cracking, shifter cables snapping and more. 
Features
Polyurethane construction - Shore A - 75 or 90 Hardness
Direct drop in, no modifications needed
Mounts are interchangeable for front and rear motor mounts
We offer 2 versions.

Level 1 - 75A - Loose fit - Good for stock power to 450WHP or more. Think of this as OEM+. Mold design of 1-2.5mm gap between OEM rubber some parts of poly mount/legs. This is a good blend between performance, comfort and OEM like feel. NVH increase should be small to none and is usually only felt during under 1200 RPM when feathering the clutch. To install 75A version - align so all small legs fits properly into rubber mount
Level 2 - 90A - Tight fit - Recommended for sportier driving experience or 450+WHP. Rubber mount mold design conforms tight to OEM Rubber. This is the highest performing mount we offer to resist engine rotation and may come with slightly more NVH as expected. Usually only experienced when feathering the clutch at low RPMs. To install 90A version, align arrows on poly/rubber mounts
Fitment
All 3SGTE front and rear motor mounts, including TRD engine mounts. 
Will fit 5SFE running turbo engine mounts
Will fit V6 and K Swaps if running 3SGTE motor mounts
Notes
Sold as a set of 4 pieces, enough to do front and rear motor mounts.

Does not work with the side 2 mounts.

Follow and match the Arrow on poly mounts and on OEM mounts to install for proper orientation.
On tight fit version, Left and Right halves, direction is denoted with front end of MR2 pointed furthest away from person and all mounts installed in place, or basically person standing behind the rear bumper of mr2 and staring into engine bay.
Part #s

12371-74220 - Rear Turbo Mount (still available via Toyota)
12371-SW211 - Rear TRD Turbo Mount
12361-74110 - Front Turbo Mount 

(still available via Toyota)

MR2 Experts - 20+ years of experience.
Largest MR2 Parts Collection in the World
Have ideas, need something, have suggestions or questions? Hit us up!

Sales@MR2Heaven.com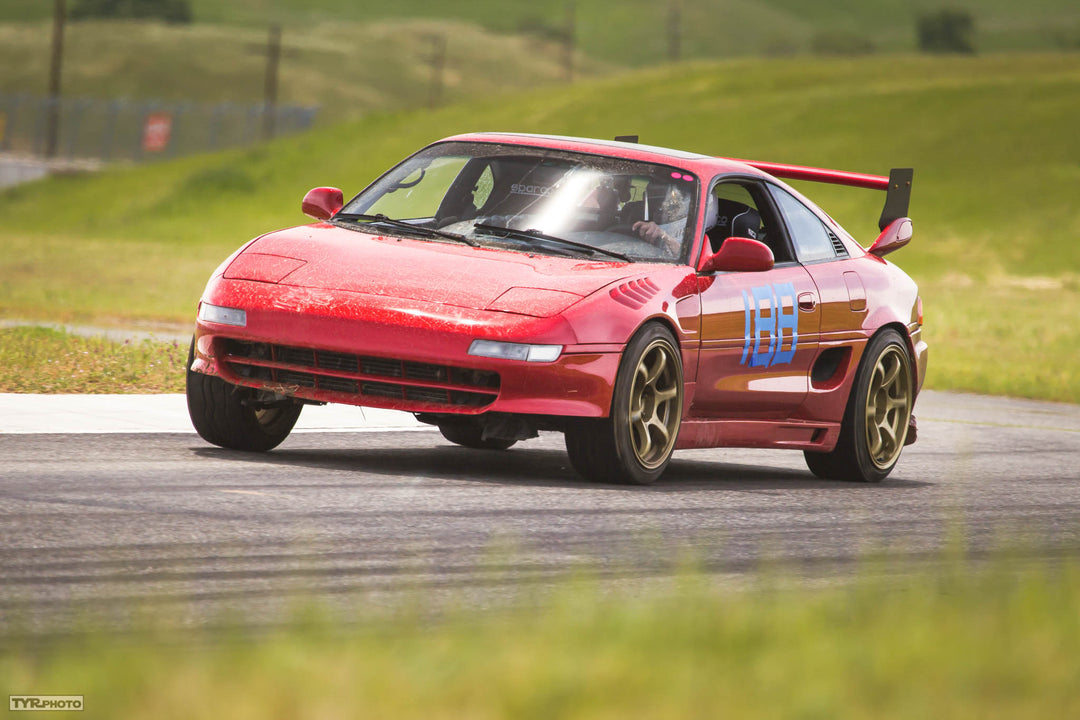 Passion drives everything we do at
MR2Heaven
Since 2002, we've been working to improve almost every aspect of the Toyota MR2, whether it's restoring it to its former glory or increasing its performance, efficiency, or style.
Our team of experts offers a wide range of OEM and aftermarket parts, as well as our own unique designs and engineering that can't be found anywhere else. We're dedicated to providing the best products at great everyday low prices and supporting the Toyota MR2 community with high-quality products.
If you have any new ideas, let us know – we're always looking for ways to bring your vision to life. Thank you for choosing MR2Heaven for all your Toyota MR2 needs.