Purpose
Tired of having your front lip dangling around pathetically on the highway or the hideous front lip/bumper gaps on your MR2?
Fret no more. 
After 30 years of being in existence, most MR2s owners through either laziness or modifications have lost ownership of this crucial piece. This piece not only provides stability and proper undisturbed clean aerodynamics to boost front end grip/confidence/cooling but it also helps to make your MR2 look as good as it can by properly attaching your front lip to your bumper and minimizing/eliminating gaps.
Features
Made from 5052-H34 Aluminum, having the highest strength alloy of the more common non-heat treatable grades, higher fatigue strength than most aluminum alloys, particularly high resistance to marine atmosphere and salt water corrosion, and is stiffer that the OEM material it replaces. These new retainers will not sheer/tear/rip or crack under typical condition, high continuous loads, or high force impacts. Each new engineered retainer has been FMEA tested to be at minimum an additional 80% stronger in tensile strength than their OEM counterpart. Use these kit if you are upgrading to an aftermarket front lip, completing a restoration, or replacing the worn out OEM pieces. Due to the mounting design you have grater flexibility to achieve the perfect fitment. These direct replacement Front Lip Retainers solve the issue of sourcing the very hard to find factory lip retainers.
3D scanned profiles from genuine OEM parts for a guaranteed fit
Precision Water-Jet cut from .1875" thick 5052-H34 Aluminum
All hardware is included for attaching aftermarket or OEM lip to front bumper
Suitable for high down-force applications
Will work with any aftermarket lip
*Updated CNC Machined Beveled Lip, Tapped Holes, and Countersunk Holes*
*Updated ABS Standoffs; identical function to old aluminum ones, and keeps kits costs the same*
Extra wide Lower Center Retainer lets you drill/tap for attaching the OEM Radiator Trays or for attaching a flat under-body panel (supply your own hardware)
The engineered additional mounting points for the Upper and Lower Left & Right retainers eliminates gaps when mating the lip to the OEM bumper
Made in the United States of America
Fitment

MR2 Experts - 20+ years of experience.
Largest MR2 Parts Collection in the World
Have ideas, need something, have suggestions or questions? Hit us up!

Sales@MR2Heaven.com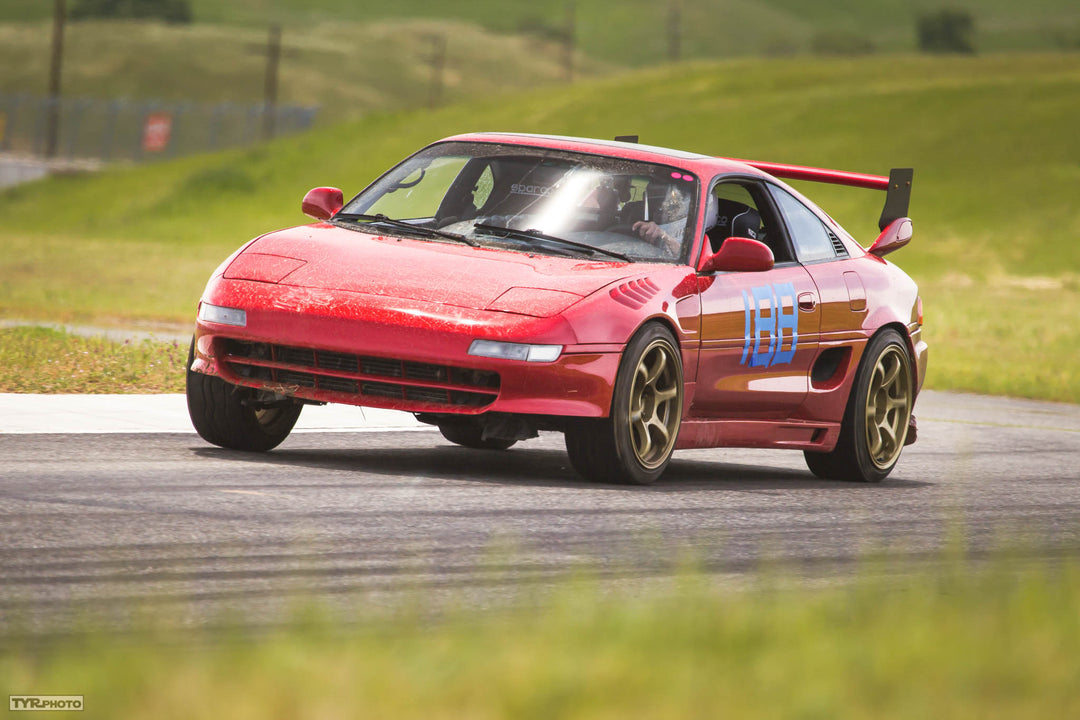 Passion drives everything we do at
MR2Heaven
Since 2002, we've been working to improve almost every aspect of the Toyota MR2, whether it's restoring it to its former glory or increasing its performance, efficiency, or style.
Our team of experts offers a wide range of OEM and aftermarket parts, as well as our own unique designs and engineering that can't be found anywhere else. We're dedicated to providing the best products at great everyday low prices and supporting the Toyota MR2 community with high-quality products.
If you have any new ideas, let us know – we're always looking for ways to bring your vision to life. Thank you for choosing MR2Heaven for all your Toyota MR2 needs.