Our design features robust 12.72" rotors for both front and back, filling in a huge portion of wheel gap within 17" wheels. Not only do they look impressive, they also offer significant weight savings of around 22lbs and provide unmatched braking performance. Experience excellent and consistent pedal feel, superior heat management, and additional benefits lap after lap. Our kits cater to all budgets and maintain optimal brake bias, with an optional parking brake feature. Designed to be tough and heavy-duty, our kit allows you to use street pads while achieving track-level performance due to lower operational temperatures. With BP10 or 20 pads, you can enjoy continuous lapping without future complications. There's no need to replace your pads and rotors after every track event; they'll last for 7-11+ track days. Plus, changing your pads has never been easier.
Lightweight - Our two-piece rotors offer a weight savings of up to 22lbs compared to the factory 1993+ turbo brakes they replace. Constructed with lightweight billet 6061 aluminum centers, these rotors are designed to be thicker and have considerably larger diameters. Despite these enhancements, each rotor remains 2lbs lighter than the OEM rotors from the 1993+ models. Incorporating Forged Wilwood Superlite lightweight calipers saves an additional 14lbs over OEM.
Rotor Cooling - All our rotors are track-ready. Our bespoke two-piece rotors feature 65 curved, directional cooling vanes, compared to 54 on single-piece rotors. Managing temperatures is crucial for brakes, balancing the heat absorbed and shed over time. Factors like greater air channel thickness, larger rotor diameter, the number of cooling vanes, and a directional curved vane design significantly increase the rotor's surface area, improving heat transfer and cooling.
Bespoke Design - Our two piece rotors are designed, tuned, optimized, simulated and balanced specifically for 1991-1998 MR2s with its dynamics in mind under all use cases. They feature 65 directional cooling vanes for excellent unrivaled heat dissipation, and are designed to prevent large thermal shocks/large temperature fluctuations/inconsistent brake pedal feel and rotor cracking issues due to large temperature fluctuations. With the perfect ideal diameter, thicknesses, air gap spacing, and surface area, they ensure optimal cooling and durability while expanding brake pad options. The front rotors weigh around 14-14.5lbs each, much lighter than the typical 21lbs one-piece rotors, and the rear ones are 10.5lbs, compared to the 18lbs one-piece alternative. Despite their lightweight design, they maintain nearly the same cooling surface area as the one-piece rotors they replace, providing a superior blend of performance and efficiency.
Longevity & Low Operating Costs - Our big brake kits will last 7-11+ track days before needing to change pads and rotors
Interchangeability & Wide Range of Solutions - All rotors we offer are interchangeable, choose from various styles, patterns, and performance levels at different price points.you can start off with 1 piece and upgrade to 2 piece down the road without issues. Multiple rotor options/replacement parts available to ensure longevity of your brake system
High Quality Components - Made in USA DOT approved brake lines, pads, fasteners (Highest grade 12.9), and forged aluminum Wilwood calipers. 6061-T6 anodized aluminum caliper mounting brackets, 2-piece top hats, and grade G3000-G3500 Iron (OEM equivalent/High performance grade brake rotors)
Easy and Quick Pad Changes on Wilwood Caliper - Remove wheel, loosen nut, slide pads in and out one at a time.
Extra features - Free temperature-changing paint indicators on 2-piece rotors.
Includes
This brake kit includes everything you need to upgrade your existing brakes:
A pair of Grey Wilwood Forged Superlite Calipers (optional powder-coating in Black or Red)
A pair of 6061-T6 aerospace-grade aluminum billet mounting adapter brackets for Wilwood Forged Superlite Calipers
A pair of heavy-duty US D.O.T. Approved Technafit stainless steel brake hoses with transparent protective sleeves
High-quality hardware kit
Optional brake pad set of your choice or source your own
Optional authentic rotor pair of your choice or source your own
A pair of rear rotor hubcentric rings if applicable
Optional two-piece rotor setup
A pair of 6061-T6 aluminum top hats
Additional necessary hardware for mounting rotors to top hats
Optional Wilwood Parking Brake Caliper Kit Add on
Custom Parking Brake Cables
A pair of Wilwood MC-4 Calipers - Color matched with your main caliper color choice
Parking brake caliper mounting bracket is made from 6mm thick carbon steel and finished with a matte black protective coating
Additional mounting hardware, brake pads, brackets
Optional Brake Duct Cooling Kits - Brake duct cooling helps cool brakes and drops temperatures even further
Coming Soon
Fitment
All 1991-1998 Toyota MR2
17" Wheels required
Wheel fitment template
This kit is compatible with most aftermarket wheel configurations for the MR2. To ensure a proper fit or if you have any doubts, you can utilize our wheel-to-caliper fitment/clearance template designed specifically for this kit. (Front) (Rear)
All rotors we supply are from reputable manufacturers, suitable for MR2 track use. We utilize 323mm/12.72" matching front and rear 1994-1998 Toyota Supra Twin Turbo front rotors and 2004-2011 Mazda RX8 front "Sport Suspension Spec" rotors for our kits so they are inexpensive and easy to obtain and will handle whatever you throw at it. Helps achieve superior heat capacity and cooling, longer lifespan and reliability, improving braking predictability, a wider range of brake pad options and enhanced style/appearance. Downsides are weight, and brake pads not covering the full width of rotor face, but both are solved with our 2 pc rotors. There are also many other companies that makes rotors for said Supra and RX8 so those would also work as well. Link to Full Rotor Part # Table
Curved directional internal cooling vanes provide superior cooling and durability compared to straight vanes, testing shows an average 80-150F+ in rotor temperature reduction
A higher vane count generally provides a larger internal surface area for heat dissipation, ensuring more consistent cooling and fewer rotor hot spots. This leads to lower operating temperatures and a stronger, more uniform rotor. Over time, hot spots, warping, or distortion can cause brake pedal pulsation. Typically, economical rotors have 24-32 vanes, street performance rotors have up to 48, and race rotors boast 60-80 or more vanes.
MR2Heaven 2-Piece Rotors - Our 2-piece rotor solution, exclusively designed for our big brake kits and wilwood calipers, is not backwards compatible with Supra or RX-8 vehicles. This innovative solution is the result of extensive research, experience, 3D modeling, and refinement, involving over 83 rotor designs analyzed to optimize MR2's weight and driving dynamics. Our front and rear 2-piece rotors offer almost the same cooling surface area as its full-sized rotors in a more compact design, achieved by using race-grade 65 curved internal cooling vanes—typically found in expensive race rotors. This 2-piece design improves on and overcomes the drawbacks of using off the shelf Supra/RX-8 rotors, such as wasted space, weight, and heavy center sections.
Front rotor thickness increased by 1.25mm to 31.75mm maxing out the front calipers, rear thickness decreased from 24.0mm to 23.5mm as part of optimization. Our 2-piece rotors provide a thickness of 16.75mm of air cooling and 7.5mm thick rotor surfaces for heat absorption, fine-tuned specifically for MR2. They fully utilize the capabilities of the front Wilwood calipers. Meeting G3500 grade iron standards, these rotors feature black E-coating for added corrosion resistance and performance (excluding plain-style rotors).
Factory-applied heat indication paint markers, valued at $150, are included at no extra cost on our 2-piece rotor offerings. The green paint transforms to white when rotor temperatures exceed 840°F, while the orange paint shifts to white at 1020°F. When rotor temperatures reach 1200°F, the red paint changes color.
Brake fade occurs when brakes operate outside their pad's temperature range, causing friction to decrease and brake pads to melt, leaving residue on rotors and leading to pedal pulsation.
HAWK, Wilwood and EBC pads are engineered, lab and track tested, solid and proven. First 2 are Made in USA. Wilwood Temperature/friction charts available see here (Wilwood pads), here (HAWK pads). EBC chart can be found here (EBC pads). Other brand pads such as Carbotech, PAGID, StopTech, Project Mu also works, but to simplify logistics, we only carry HAWK, Wilwood and EBC. General rule of thumb is OEM brake pads for sport cars are good for up to around 600F on small rotors before dropping off on friction.
Higher temperature pads usually come with drawbacks, higher the temp, the worse poor cold performance/friction or high pitched hard squealing is common. Please don't order BP-30 or BP-40 thinking it is cool when its not needed. For our kits, 99.9% of owners will not need over BP-20 at most
EBC Red Stuff - Consistent friction up to 800F before tapering off. Great for the streets as these are not track purposed, which is also good if you don't like squealing brakes. The go to pad if noise is an issue, BP-10 would be our next pad to recommend for low noise.
HAWK High Performance Street - Good up to 750F-800F - Great for high performance street use. These may still be quite noisy when cold.
HAWK HPS + - Good up to 850-900F – Same as above. Pads that are built for this temperature range are a bit noisy for people who are not used to using high performance pads, i.e, they may squeal lightly at every stop when cold. Goes away when warm.
BP-10 High Performance Street/Track use **POPULAR - Great for up to 950-1050F. BP series pads are great. Great compromise, Cost effective, long life and are very consistent. Perfect for street and moderate/heavy duty track use. As expected with all high temperature pads, these will squeal a tiny bit when cold, can probably be heard up to 1-3 cars away when standing outside. Fortunately any braking noise does goes away completely after 1-2 stops like (60-20mph). We highly recommend these pads and they'll work for 95% of MR2 owners. Pair it with brake ducting and you'll be golden!
BP-20 Streetable/Heavy duty track pad **POPULAR - Great for up to 1200-1250F - Just like BP-10s, offers great cold performance and consistent feel for street and track throughout the whole temperature range. Long lasting and inexpensive, all you'll ever need. Will take everything you can throw at it consistently lap after lap. Make sure you have some kind of brake ducting in place as it helps significantly with cooling. Only downside of BP-20 pads is increased squealing intensity when cold. As expected with this temperature range of pads, you can sometimes hear these pads 6-30+ cars away and it sounds similar to a train when they're cold. Goes away completely when warm with 1-2 60-20mph stops. Some may find this annoying, while some may enjoy the sounds.
BP-30 - You don't need this but if you want it, we have it. Good for 1200-1450F. Not for street use, race only.
BP-40 - Xtreme High Temp Racing Pad – You don't need this but we have it - Not for street use, race only.
Wilwood Forged Superlite Calipers feature a lightweight, 4-piston design that's both budget-friendly and proven on the track. Manufactured in the USA, these calipers can be powder-coated by Wilwood in Black or Red or even custom colors for an additional $1400. Alternatively, you can order Gray and customize the color yourself. Replacing your stock calipers with these Wilwood calipers can save you approximately 14lbs in weight. Carefully selected to maintain brake bias on both Turbo and NA MR2 models, these calipers are a high-quality and stylish upgrade option.
Model
Part #
Position
Piston diameter

Notes

Wilwood Main Calipers
Forged Superlite
120-11130
Front
1.38"
Standard front caliper supplied with kits
Forged Superlite
120-11125
Rear
1.25"
Standard rear caliper supplied with kits
Optimal for NA and Turbo proportioning valves.

Optional Parking Brake Calipers
MC-4 Mechanical
120-12070
Rear Left
---
Silver - Also available in red and black
MC-4 Mechanical
120-12069
Rear Right
---
Silver - Also available in red and black
Premium Brake Caliper Mounting Brackets are crafted from a single piece of CNC-machined 6061-T6 aerospace-grade aluminum, providing strength and durability while being one-third the weight of most mild steel alternatives. These brackets are hard-anodized for exceptional protection against extreme environments. In contrast, some MR2 sellers use outdated multi-piece steel brackets that are either bolted or welded together and painted black. While less expensive to manufacture, these brackets are three times heavier and can be unevenly welded. Furthermore, if their paint chips, they are susceptible to rust.
High-quality, US-made D.O.T. approved one-piece brake lines are crafted from premium PTFE cores, zinc-plated steel fittings, and stainless wire braided covers, all encased in a clear PVC outer layer for protection against chemicals, elements, and debris. These lines prevent swelling, expansion, and rubber deterioration commonly seen in stock OE lines. In contrast, some MR2 sellers use cheap, unbranded lines with multi-piece fittings, which are prone to leaks and deformation due to cost-cutting measures. Be aware of the potential risks associated with inferior products.
High-Quality Hardware Kit features heavy-duty Grade 12.9 black oxide bolts/screws, stainless steel and zinc-coated washers, and lock washers, all sourced from the reputable McMaster Carr. These components are designed to withstand harsh environments.
For Two-Piece Rotor Assembly, we use 18-8 stainless steel socket head cap screws and U.S. Military Standard 21042-5 self-locking "jet nuts" to secure the top hat to the rotors, eliminating the need for safety wire.
Brake Bias - Our front and rear kit, when combined, delivers brake bias dynamics that meet or surpass OE standards:
With an OEM Non-Turbo Brake proportioning valve, our F&R kit performs exceptionally well with BP10 & BP20 pads, significantly improving OEM 1993+ Turbo Brake Bias curves. It achieves 60-63% front bias from 0.5 to 0.7G and maintains an ideal 63%-68% front bias from 0.7 up to 1.4G. This helps prevent rear wheel lock-ups as weight shifts to the car's front during hard braking.
With an OEM Turbo Brake proportioning valve, our F&R kit performs decently with BP10 & BP20 pads. It maintains a stable 62-64% front bias and around 36% rear bias from 0.5 to 1.4G of deceleration, similar to the OEM 93T brake bias.
Disclaimer - These brake components are designed for off-road use only and should not be used on streets or highways. By ordering from us or using our supplied brake parts, you agree that we are not responsible for any damages, injuries, accidents, or deaths. All responsibility lies with you.
Be aware that inventory, pricing, and wait times for rotors have varied significantly in recent years, with some manufacturers increasing prices by up to 300% within a year. Some rotor brands even discontinued products or faced long stockouts. Our brake kit system offers over 11 types of rotors to choose from, including 6 custom-made variants, ensuring you have ample options for future maintenance and avoiding being without brake rotors or pads.

MR2 Experts - 20+ years of experience.
Largest MR2 Parts Collection in the World
Have ideas, need something, have suggestions or questions? Hit us up!

Sales@MR2Heaven.com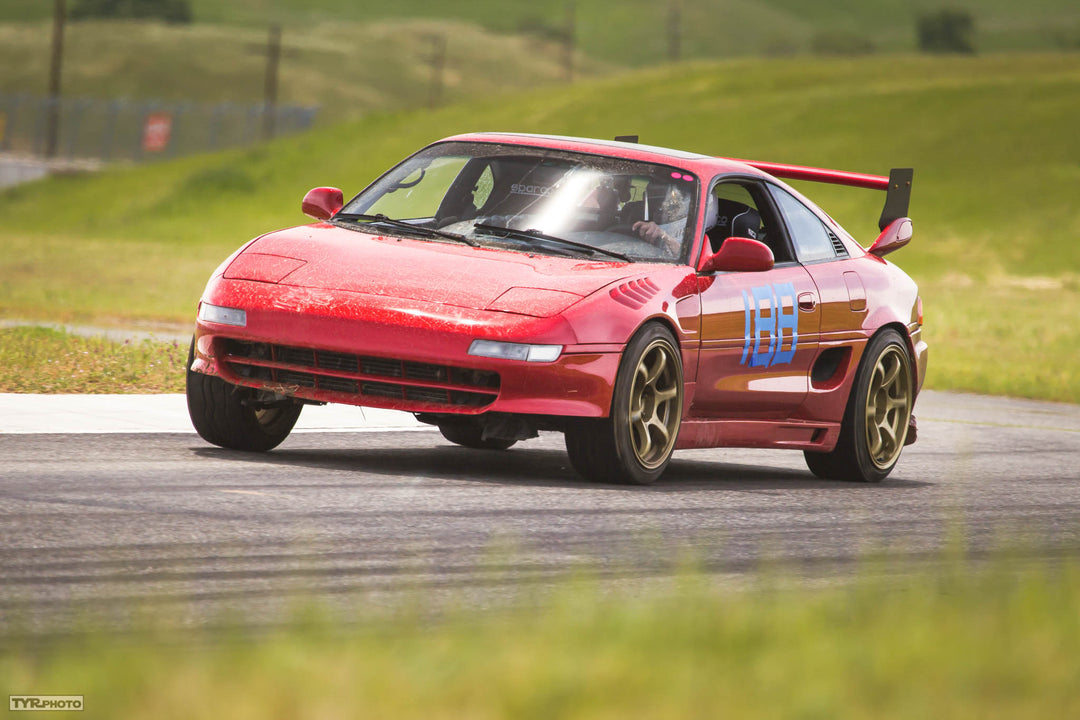 Passion drives everything we do at
MR2Heaven
Since 2002, we've been working to improve almost every aspect of the Toyota MR2, whether it's restoring it to its former glory or increasing its performance, efficiency, or style.
Our team of experts offers a wide range of OEM and aftermarket parts, as well as our own unique designs and engineering that can't be found anywhere else. We're dedicated to providing the best products at great everyday low prices and supporting the Toyota MR2 community with high-quality products.
If you have any new ideas, let us know – we're always looking for ways to bring your vision to life. Thank you for choosing MR2Heaven for all your Toyota MR2 needs.