Note 6/7/2020 - The supply for 5x7 headlight housings has ceased and as a result, until we have time to take their place and reproduce headlight housings, this project is currently discontinued. May revisit this idea in the future
Note 12/21/2018 -  Product page re-done for easier reading/navigation. Currently 1 week build time. 
Purpose
We spared our customers of the all the time consuming and tedious hard work of thinking, researching, testing, comparing, retrofitting, trial and errors by finding the best suited and performing projector at the best price point. Not only that, it also looks great in our opinion. We ultimately bring you a headache free, exceptionally well performing headlight system for your MR2.
Performance
Our system offers incredible width, brightness, spread of light and significantly better lighting output performance than the OEM headlights on the MR2 or any cheap or fake projector systems out on the MR2 market without blinding/annoying other drivers period. LED doesn't stand a chance. 
We think our projector system is very similar in lighting performance and often times better than many modern luxury cars out there currently on the road for a fraction of the cost.
Features
D.O.T legal headlight housings and projectors 
Watertight and sealed 

Bi-Xenon

 -

High beam and low beam are integrated into one unit. 

Distinct and sharp cut off point - Prevents glaring, blinding, endangering and annoying every driver around you. (Also illegal in many places)
Exceptional and remarkable lighting output

All Headlights will includes a E-55R decorative protective shroud and blacked out housing free of charge.
Whats included?
2 Retrofitted Bi-xenon projector headlamps

If you need HID kits (bulbs, ballasts etc), we supply these as extra options. 

You will need a HID Kit that supports the D2S bulb type to power up our projectors. (See paragraph below)
Optional HID Kits / Ballasts/ Bulbs/Wiring Information
You'll need a pair of bulbs, ballast as well as ballast to bulb adapter to make these headlamps work. We recommend the following options. 
A dedicated wiring harness - Must have in our opinion. Helps promote the highest voltage to the HID lighting system, allowing for maximum light output performance. From our testing, the stock harness is very restrictive and has quite a big voltage drop, causing for poor performance from the bulbs. Similar to when your headlights are on but car is off VS headlight on with car on (This is because your alternator outputs 2-3Volts more than your battery when its spinning).
Stage 1 - Generic HID Lighting Kit (Ballast, adaptors and HID bulbs)

 

- Cost effective and modest performance. (As a note, from multiple light output comparison tests and videos as well as our testing shows that Osram 66240 CBI (5500K), Philips Xtreme Vision V2 part#: 85122XV (4800k), and Morimoto XB35 bulbs are typically 2 to 3x brighter than the generic HID bulbs in light output). From our real world testing and customer reviews, Philips XV bulbs are day and night in difference vs Morimoto XB35 bulbs in intensity and light output while considering distance/range. 
Stage 2 - Morimoto XB35 Bulbs, Osram CBI Bulbs or Xtreme Vision Bulbs with Generic ballasts and adaptors. (If you're spending this kind of money already, might as well go all out to stage 3..). Real world road testing from our customers state "Wow, Philips XV bulbs is night and day over XB35 in terms of penetration and brightness." They stated "XB35 sucks." We saw similar results between CBI and XV. 
Stage 3 - Morimoto XB 35 watt ballasts and adaptors + Philips Xtreme Vision 85122XV

 

generation 2 HID bulbs

 

(#1 Brightest) or OSRAM 66240 CBI bulbs (#2 Brightest) for the best performance. We personally didnt like OSRAM 66240 or XB35 morimoto bulbs as it seemed if the light did not seem bright or penetrate very far unlike the Philips XV bulbs. We highly recommend this setup if budget allows. It is truly the best. 
Still not sure what to choose? Ask your self how much you value night time driving and safety, looks of your mr2, how much you love your mr2, your current budget and just pick the dedicated wiring harness and stage 3... :). Remember, think of it as an investment.. You can sell everything, revert back to stock anytime if desired! This system beats a few $3000+ OEM headlight systems out there at a fraction of the cost                      -Richard @ MR2Heaven 
Notes:
In the comparisons, pictures were all taken with a Samsung Note8.

We used ISO100, Shutter speed 0.5 second for all shots done stationary in the dark. 
In rolling shots, automatic mode was used on Note8 . 

On the BMW, it is equipped with OEM bulbs 
Regarding pics of the MR2 in parking garage, it is running old Morimoto HID ballasts and Bulbs (Outdated stuff). 
Bulb brands (OEM in the BMW vs generic bulbs in comparison photos) also play a huge part in brightness (From multiple testing, a 1.5-3x difference in lumen output is normally expected). 
No need to ship us any headlamp cores as we source our own

MR2 Experts - 20+ years of experience.
Largest MR2 Parts Collection in the World
Have ideas, need something, have suggestions or questions? Hit us up!

Sales@MR2Heaven.com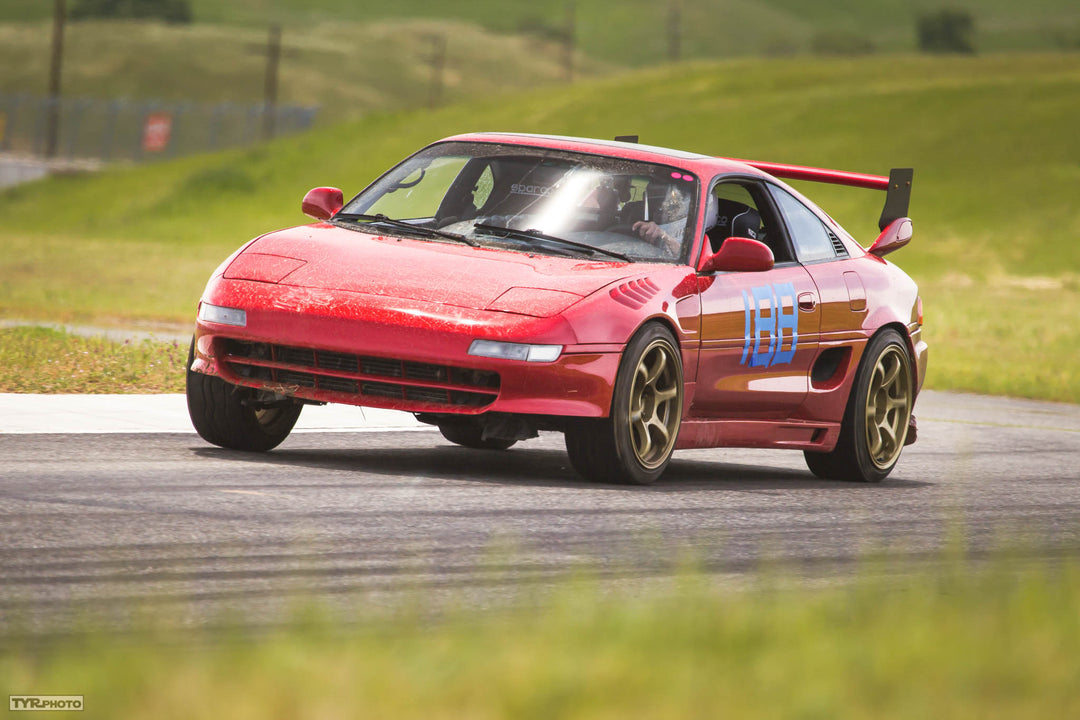 Passion drives everything we do at
MR2Heaven
Since 2002, we've been working to improve almost every aspect of the Toyota MR2, whether it's restoring it to its former glory or increasing its performance, efficiency, or style.
Our team of experts offers a wide range of OEM and aftermarket parts, as well as our own unique designs and engineering that can't be found anywhere else. We're dedicated to providing the best products at great everyday low prices and supporting the Toyota MR2 community with high-quality products.
If you have any new ideas, let us know – we're always looking for ways to bring your vision to life. Thank you for choosing MR2Heaven for all your Toyota MR2 needs.