Planning to drive hard or need more stopping power? We've got the solution. 
Don't look like a complete fool and let brake pad fade or boiling brake fluid ruin your day (or car) while you are driving hard and stopping repeatedly. We've learned that the hard and embarrassing way. This big brake kit will help keep those problems away by reducing overall brake temperatures and extending performance capabilities while saving weight, increasing brake pedal feel and response!
These Big Brake Kit brackets bolt up to the Front of the 91-98 MR2 to accept a larger, lighter & more capable Wilwood forged superlite brake caliper and significantly larger diameter/thicker 12.72" Toyota Supra MK4 Twin Turbo Brake Rotors for the ultimate high performance braking solution
Type A or B?
Due to our big brake kits having to cater to numerous rotor and pad choices, we now make 2 different types of caliper mounting brackets for fronts. The purpose between these bracket types is simply for caliper offset and marginal increase in air flow for rotor cooling due to design.
Type A - Perfect to use for Hawk or EBC pads on all rotors. Not for Wilwood pads due to pad placement being placed past the rotor's chamfered edge. This can cause additional unwanted noise.
Type B - Ships by default. This bracket works for everything. Perfect for all brands and types of rotors (MR2Heaven 1 piece, MR2Heaven 2 piece, Stoptech rotors and others). Perfect for Wilwood pads. Works for Hawk and EBC pads but these pads will be slightly more towards the center of rotor.
If you are an existing big brake kit customer of ours with a valid order # and want to exchange, contact us via email and we will be more than happy to exchange caliper brackets free of charge for you, minus shipping costs.
Features:
7075-T6 Aerospace grade aluminum 
Extremely lightweight 

(1/3 of weight of steel)

Stronger than most common steel
Hard anodized for protective surface finish 
Designed to be used in combination with
Calipers - Wilwood Forged Superlite - 120-11130 (Order 2 of these)
Brake pads (Wilwood) (Order a set of any below)

BP10 (Part# 

150-8854K) 

- High performance street pad
BP20 (Part# 

150-9416K)

 

- Street/track pad

Rotors (Order 1 Right and 1 Left Rotor)

Front MK4 Supra Twin Turbo Rotor (blanks) - 120.44103

Front MK4 Supra Twin Turbo Rotor (blanks) - 120.44104

Front MK4 Supra Twin Turbo Rotor (Slotted, Left) - 126.44103SL

Front MK4 Supra Twin Turbo

 

Rotor

 

(Slotted, Right) - 126.44104SR

Front MK4 Supra Twin Turbo Rotor (Slotted & Drilled, Left) - 127.44103L

Front MK4 Supra Twin Turbo

 

Rotor

 

(Slotted & Drilled, Right) - 127.44104R
Can also use and order our 1 piece rotors

 

here
Includes:
Disclaimer/Notes
Don't forget to buy some nice high temp DOT 4 or higher fluid to complete your brake upgrade.
These brake parts are intended for off road use only, they are not intended to be used on the streets/highways. Whatever you do with your car is up to you and your responsibility. 
While we strive for the highest quality brake components accessible to us, we are not responsible for any damages, injuries, accidents or death to you or others due to the use and installation of these supplied parts. All responsibility is on is on you. Ordering from us or using our supplied brake parts constitutes your agreement to these disclaimers. 

MR2 Experts - 20+ years of experience.
Largest MR2 Parts Collection in the World
Have ideas, need something, have suggestions or questions? Hit us up!

Sales@MR2Heaven.com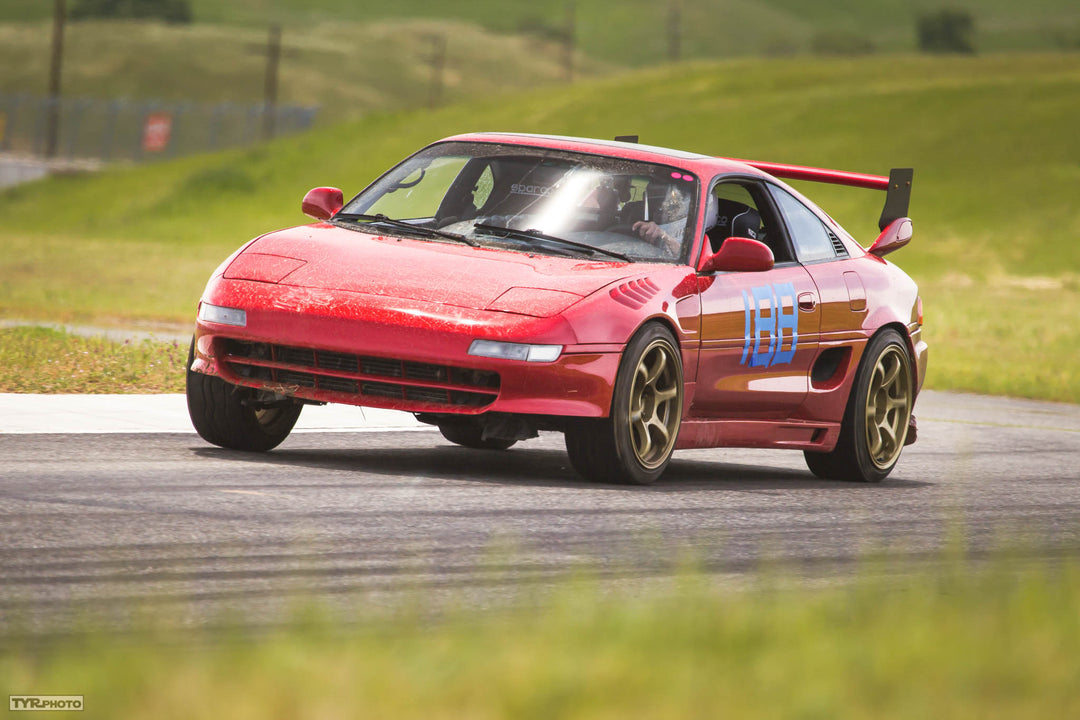 Passion drives everything we do at
MR2Heaven
Since 2002, we've been working to improve almost every aspect of the Toyota MR2, whether it's restoring it to its former glory or increasing its performance, efficiency, or style.
Our team of experts offers a wide range of OEM and aftermarket parts, as well as our own unique designs and engineering that can't be found anywhere else. We're dedicated to providing the best products at great everyday low prices and supporting the Toyota MR2 community with high-quality products.
If you have any new ideas, let us know – we're always looking for ways to bring your vision to life. Thank you for choosing MR2Heaven for all your Toyota MR2 needs.