We are OFFERING FREE SHIPPING for the 48 STATES! For International orders, we will contact you for more info regarding shipping
Newest and latest Fortune 500 coilovers
High Flow Digressive

™

 

Pistons in 500 Series - made of lightweight billet for maximum weight savings and damper sensitivity
Lower mount locking ring clamps are now standard - easier to adjust and less prone to coming loose in high mechanical grip applications
Revised Piston Seals on CFD Pistons to reduce seal drag and improve damper reaction
Laser etched top plates, locking spring perches, and lower mount locking rings
As always -

 

Custom, Modular, Rebuildable.
Our personal favorite pick in the suspension department for the MR2 without a doubt is the Fortune Auto 500 Series Coilovers. As passionate, decade long MR2 fanatics, we've pretty much tried around 80%+ of the different suspensions out there for the MR2 and personally feel that this coilover is an no brainer in its price range as it is on par in performance with other 2-3k systems out there, while yet feeling more comfortable.
What won us over was that FA 500 coilovers offer amazing daily comfort for driving on crappy city roads (California) and the best road performance we've seen so far. For comfort, small annoying jarring high frequency bumps present on other types of coilovers (BC, ksport, megan, tein etc) were filtered out and the setup actually feels like what an OEM luxury sports car feels like, not jarring, but comfortable, supple and yet capable. With identical spring rates at 5/8K, the FA500 personally felt 30-40% less jarring/more comfortable on our admin's personal MR2 than our second favorite pick - BC Racing Type BR coilovers (which were replaced for the FA500 Coilovers as admin Richard complained of comfort issues). Countless reviews also mentioned similar comments. The 5/8K on FA500 were also significantly better than the 4/6k on the BCs (We tried that too in hopes of a more comfortable ride but its too soft and the high frequency bounces were still present annoying/uncomfortable). The FA500 coilovers helped achieve higher cornering speeds, an increased sense of stability/confidence at high cornering speeds (think triple digit/OEM speed governed, flat out throttle on a rounder. **We don't condone doing this and we are not responsible for any injuries/damages/death arising from this) Comes with 5 years warranty, HAND BUILT in USA and shock dyno'ed /tested in house coilovers. Also, customer service is amazing! 
As experts say, it is all in the valving which gives the coilovers its characteristics and this product gets their shocks valved in house with high quality components according to your desired spring rates, with specific vehicle weight and dynamics taken into consideration while engineering the ideal shock valving rates. An added bonus is that a bigger diameter piston is used rather than the smaller on other coilovers on the market, which increases the coilovers ability to dissipate forces and shock temperatures, leading to better consistency under harsh use and many other advantages.
This coilover system also utilizes Digressive piston technology which in basic terms, allows for significantly more comfortable and non jarring ride on the street versus other competitors while still being able to perform extraordinarily well on the track or under spirited driving with benefits of a wide range of damper adjustments. FA coilover technology is also used on many world class competition cars which are currently setting record lap times around the world. 
Fortune Auto raises the bar with unparalleled quality and shock consistency (under high shock temps, will the coilover exert consistent forces under high temperatures?), customization and continuing support as well as product advancements/upgrades for the product over the years.
**If comfort and spring consistency is a big issue, get the swift springs. Their springs are wound from a magnetic steel alloy that makes the spring much more compliant and in the end, a more comfortable coilover system. They are much more consistent as well. (Example - A 5kg rated spring wont jack up to 9kg after the first inch of compression, it will stay a 5kg spring through the compression.) This is important for comfort, confidence inspiring feel, performance and predictability.  
500 Series Coilovers are custom, hand-built to order. Most applications, including the MR2 have a 6-8 week lead time (hand built/valved to your specific order). 
Specs:
Top Mounts Front: Pillowball Camber Plate

Top Mounts Rear: Aluminum

Default recommended Spring Rate Front: 4K 
Default recommended Spring Rate Rear: 6K
Custom Spring Rate Available. (Every FA order is custom valved to spring rates)

4/6K - What FA default recommends, 

A bit soft. In theory, this should be more forgiving if rear slips out and the most comfortable for daily/mountain/occasional track use. Not really recommended as 5/7KG offers pretty much the same comfort and offers better performance benefits. 

***Fortune Auto and MR2heaven recommends 5/7K as baseline

 -

for more modified mr2s - daily use (50%)/mountain carving(35%)/occasional track use(10%)/

more planted to ground feel or if you have light Aerodynamic mods (splitter, wing, flat underbody etc) or sticky tires, Hankook RS3, RS4, Pilot super sports, star spec, etc. Perfect choice. 

5/8K

-  Pretty decent choice but we think the rear is a bit bumpy over large bumpy rounders during cornering. Don't get us wrong, it still very comfortable and provides immense confidence and cornering capabilities.

7/9KG

works too and is comfortable. 

8/10KG

 - If you have big aerodynamic mods and are into track racing or slamming the car/stance/trying not to rub or destroy your wheels, stiffer than 7/9KG also works and prevents rubbing. For Static stance guys (fender next to the wheel edge) Barely noticeable difference in comfort difference versus 6/8K. 
12/14KG++

- We have not used this yet but recommended for very aggressive street, racing, track or stance use. For cars with massive aerodynamic mods attempting to shatter records. Should still be relatively comfortable and offers incredible road handling and feel. (This opinion is based of driving a 17/18KG setup on JRZ Pro 2 way coilovers ($6000+) on a E36 M3 which handled perfectly while being sporty and very comfortable on the streets. Felt 10-20% more harsh than our 5/8 FA coilover on MR2. Still more comfortable than 5/8K BC coilovers. No Joke.)A good point to remember is that sometimes stiffer is not better for handling. Sometimes some play in the suspension can allow for better weight distribution during cornering and can help with driver feedback, car stability and confidence.
Those are our recommendations based on our current knowledge and experiences, you can choose other rates as well and pioneer for the community. We will thank you for that! :) 
Dyno-tested
Monotube damper with high pressure nitrogen
24-step adjustable dampers
Height adjustment independent of preload
Digressive piston technology
5-year manufacturer's warranty
All shocks custom built to order

6-8 WEEK BUILD TIME IS NORMAL

MR2 Experts - 20+ years of experience.
Largest MR2 Parts Collection in the World
Have ideas, need something, have suggestions or questions? Hit us up!

Sales@MR2Heaven.com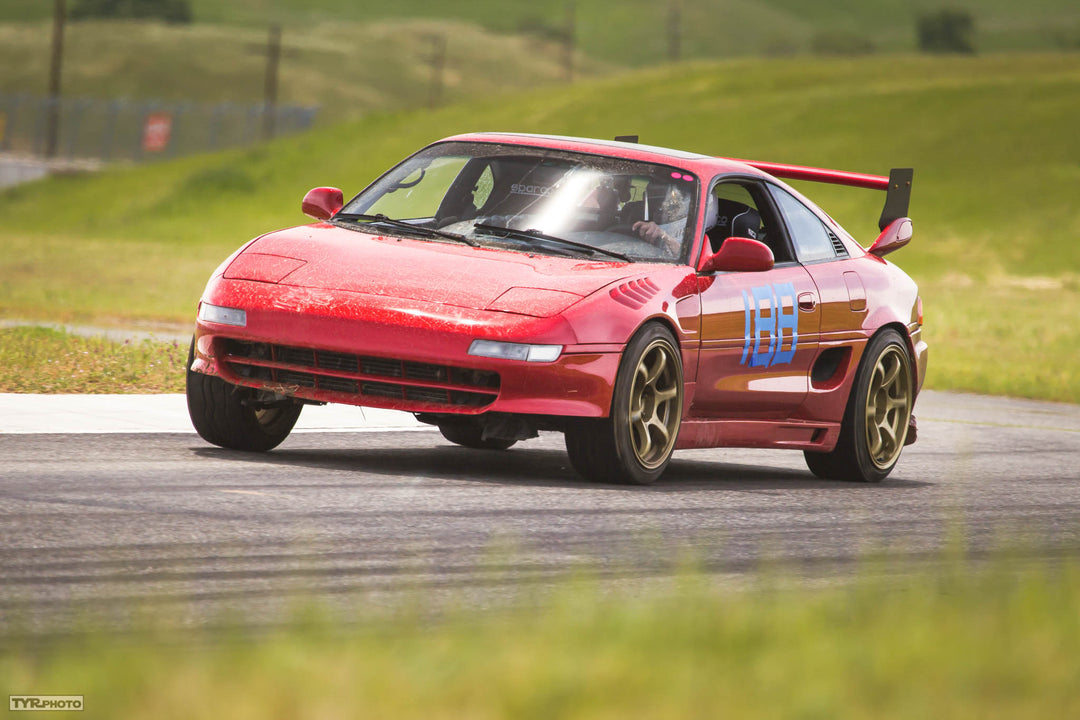 Passion drives everything we do at
MR2Heaven
Since 2002, we've been working to improve almost every aspect of the Toyota MR2, whether it's restoring it to its former glory or increasing its performance, efficiency, or style.
Our team of experts offers a wide range of OEM and aftermarket parts, as well as our own unique designs and engineering that can't be found anywhere else. We're dedicated to providing the best products at great everyday low prices and supporting the Toyota MR2 community with high-quality products.
If you have any new ideas, let us know – we're always looking for ways to bring your vision to life. Thank you for choosing MR2Heaven for all your Toyota MR2 needs.