Purpose
Intake Air Temperatures (IAT) with OEM or aftermarket stainless steel/Aluminum pipes on an upgraded side mounted intercooler core setup can exceed 140-145F+ after 3 to 6 pulls when ran without proper auxilary cooling and temperature alleviating modifications. At these temperatures, one can expect engine to pull 30-70+ WHP worth of timing, enough to ruin all your fun and enjoyment. This is percisely why MR2s fall flat around 2-3 pulls and it only gets increasingly worse. Fortunately, we have effective solutions for these problems so you can have all the fun with your MR2 throughout the whole drive without any limitations. Our dual 12" engine lid fan shroud will help shave significant intake air temperatures off your whole drive for maximum horsepower and fun throughout your whole drive. Say Goodbye to heat soak
Click below to expand

How Heat Soak Gets the best of MR2s
Our exhaust manifold temperatures can reach 1200F+, valve cover temperatures hover around 185-260F+ and intake manifold/throttle body/pipes are literally too hot to touch without burning your hand. Ultimately, every side mounted IC MR2s greatly suffers from heating of intake air temperatures as that air is forced to travel through a gruesome hot and long path before it reaches our engine cylinders. This also puts unnecessary extra stress into the side mounted heat exchanger.

For those who say "its a short path and heat soak doesn't matter because of air velocity", go check out the large temperature differences and watch the detailed video. Keep in mind, those results are for Intake side and pipes not placed directly above MR2 motor/exhaust manifold but the physics are the same and the results/temperature differences on a MR2 are even greater.


https://youtu.be/rHXB4ljWHf4?t=1917

How it works - Dual 12" Engine Lid Fan Shroud - Renders entire top end of the engine bay, including intake manifold and pipes cold/cool to the touch
Our dual 12" engine lid fan shroud helps significantly in reducing recovery times, and temperatures around the engine bay, including the heat soaked "too hot to touch" intake manifold/throttle body/pipes. The 2x 12" fans being literally an inch away from those various important components, forces massive amounts of cool ambient air directly to help cool everything nearby. The end result is many components in the engine bay are literally cool/cold to the touch while the motor is running, including top half of the entire intake manifold, both pipes, throttle body, your intake air filter and more. Thats a huge temperature difference, from burning hot to touch to cold to the touch.
Many believe natural air cooling which goes from under the car and out of the engine lid is proper and the best method. We don't argue that hot air rises and it does but what actually happens is hot air from your motor and block rises and heats up your components. Don't believe us? That air flow is free - try it yourself - If your components aern't cool to the touch after, there is your answer.
With that being said, many customers are seeing a 30-50+ degree reduction in their intake air temperatures with our fan shrouds when paired with our aftermarket side mounted intercooler setups. Some of our customers are even running as high as 500+WHP on our side mounted intercooler kits before reaching high intake air temperatures. Multiple 460WHP dyno pulls resulted in 100-105F IATS which is legendary on a side mounted intercooler. We all know how nice our cars pull on a 45 degree night vs a 95 degree day before it falls flat on its face after the 3rd and sequential pulls without our fan shroud as temperatures shoot up well past 140F+ (140F+ if our full suite of solutions is not deployed). The huge horsepower difference is undeniable, that is because we are losing 30-80+ horsepower due to temperatures alone and the ECU having to resort to safer timing values/maps for your car to run safely. The end result with this fan shroud lid installed is MORE HP and FUN throughout your whole drive. Guaranteed.
If you want the best out of your intercooler system - Air flow of side mounted fan is critical - Natural air flow velocity through poorly placed/designed side vent into heat exchanger mounted indirectly is dreadful
For the most fun and best experience, consider our 800+ CFM SPAL fan which pulls large amounts of airflow through the thick 4" restrictive intercooler core cooling fins with brute power to the point where you can easily feel with your hand on the other side of the core. The other 2 fans we offer which are no slouches by the way, we cant feel much if any air being pulled through which brings us to another inherent problem of 90s design and mid engine layout of MR2, that is the natural air flow velocity from small vent on the side is inadequate for penetrating through entire heat exchanger core when car is in motion even at highway speeds.

Heat exchanger core actually sits quite some distance above the vent opening and at a large slanted angle. Imagine velocity of air flow when it has to fully twist 90 degrees twice to penetrate the core in such short distances. Not going to happen. Fortunately, our optional 800+ CFM air flow fan takes care of things

Do most owners even have air re-directing block off plates installed?
Features:
Lower Air Temperatures and increases horsepower 
Great for top mount as well as side mounted intercoolers
Available in Full Carbon Fiber, Mirror Finish or in raw aluminum form
Lightweight (CF version around 1/3 the weight of aluminum panels and 1/6 weight of steel)
Modern
Exotic appearance
Premium, stylish & sleek
Cut with water, no burn or poop marks from laser cutting
Brushed aluminum finish
Show off and compliment that precious engine bay/hard work in a classy way
Premium CNC cut full sized panel - Not half sized panel or hand cut
Dual 12" fans (Same bolt pattern as many of the common engine lid fans out there) Send us an message for specifics.
Tested and verified - A whopping peak 3300-3400 CFM of air flow.

Thats about 6-7x the airflow of the common 9" intercooler fan we sell when strapped onto an IC core

(That fan isn't a slouch either), or 4.25x our thick fat extreme 9" HD Spal
Carbon Fiber version will look great with some of our other Carbon Fiber offerings (CF intakes, CF Intercooler pipes, CF pre preg interior trims, CF T-Top shades, CF 98 Wing riser plates, CF stage 2 wing, and even more in the future. Stay tuned for the releases!
Notes
Does not work on NA/Non turbo engine lid

Sold as a single panel or as a full kit with fans and hardware. Wiring is not included as these fans can be wired up easily in many different ways.

Pair the dual fan shroud with our 9" extreme 800+ CFM spal intercooler core fan (see here) for the ultimate experience.If you are using a cheap 9" or even worse a 200-300 CFM 7", please strongly consider as air flow to the side mount heat exchanger is inadequate

Please buy 2 dedicated wiring kits if you are upgrading to SPAL IC fan + dual fan shroud setup. OEM circuity is inadequate and has huge voltage drops, reducing fan speed.

Raw Aluminum material in itself is a very prone to permanent finger printing/marring and easy to scratch material. It is also subjectable to water marks that may be difficult to remove once etched on. 

Pro-Tip - Paint aluminum surface with $5 high temperature black spray paint or any paint of your choice for a nice finish :). See picture. 

MR2 Experts - 20+ years of experience.
Largest MR2 Parts Collection in the World
Have ideas, need something, have suggestions or questions? Hit us up!

Sales@MR2Heaven.com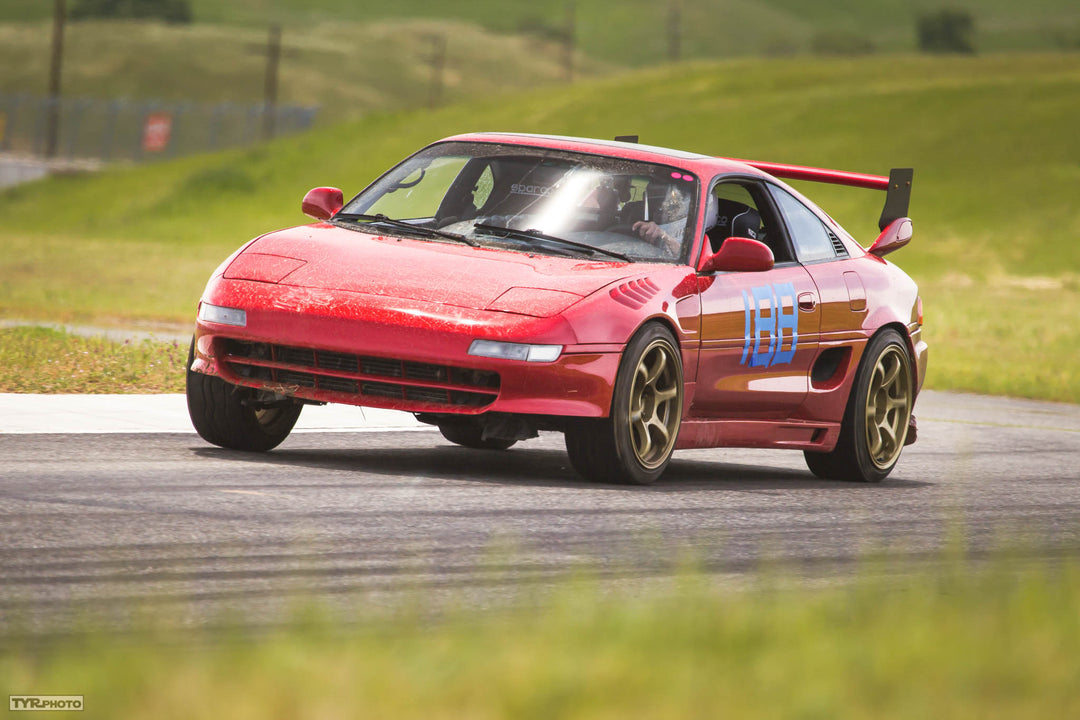 Passion drives everything we do at
MR2Heaven
Since 2002, we've been working to improve almost every aspect of the Toyota MR2, whether it's restoring it to its former glory or increasing its performance, efficiency, or style.
Our team of experts offers a wide range of OEM and aftermarket parts, as well as our own unique designs and engineering that can't be found anywhere else. We're dedicated to providing the best products at great everyday low prices and supporting the Toyota MR2 community with high-quality products.
If you have any new ideas, let us know – we're always looking for ways to bring your vision to life. Thank you for choosing MR2Heaven for all your Toyota MR2 needs.