Purpose
After 30 years of debating which is the best MR2 shifter on the market, having to FIND, PURCHASE (Good luck obtaining a TRD shifter) and SWAP between ALL the different shifters out there to find your favorite... We stepped in to spare you of that hassle.
Utilizing CAD software as well as cutting edge 3D Scanning tools, we found that the most popular shifters out there - C's, OEM TRD and 1993+ shifter all share the same physical body and similar shifter cable mounting tab locations with the difference being where the cable pivot point was mounted on the tab. With that knowledge in mind, we developed the ultimate "All in one" shifter but even better. We were able to create a shifter that incorporated all existing popular and worthy shifter options into one lever body while also including 2 of our own exclusive shifter adjustment settings - with one being even more aggressive than the C's, offering even better feel and shorter throws. 
Gone are the days of trying to search, buy, swap to find your favorite shifter. This shifter does it all! From offering the capability for having the shortest and most engaging throws to easily being able to switch between all the most popular and favorite shifter settings in less than a minute. It is a no brainer decision, its the ultimate affordable shifter in existence - Why waste money and time on numerous different shifters when you only need one?
For your convenience, we also linked all other relevant shifter mods/parts that in our decade long experience believe does wonders for your driving experience. 
Features
ALL IN ONE & ADJUSTABLE - Listed below are adjustment settings from top to bottom

MR2Heaven High Angle Short Shifter setting (Its the shortest throw stock bodied shifter on the market - Super short throws when compared to TRD, around a total 1.5-1.75in travel reduction from 3rd to 4th gear travel distance)
C's Short Shifter
TRD Short Shifter
MR2Heaven Medium Angle Short Shifter
OEM 93+ Short Shifter (OEM setting, the longest throw compared to all  other settings)

Lowered physical height of shifter gear knob placement - For shorter and quicker shifts and a sportier feeling
Plug and play - No Modifications needed
Construction: 304 Stainless Steel
Nylon Shifter Cup - The cup that encapsulates the shifter lever ball. Replaces your worn out cup for a tight fitting cup. This is required for our shifter levers in order to have 0 play.
Optional Shifter Base Bushings - Removes the deteriorated flexible rubber bushings on the base of the shifter plate and results in a solid precise gated shifting feel - Highly recommended
Optional Lowering Drop plate - Lowers the shifter gear knob assembly and promotes a sportier experience. 
Optional transmission shifter arm base bushing (Sold separately here) - Eliminates left and right side play in the shifter lever. Worn out in 90% of the MR2s we see.

Highly recommended

Optional fully adjustable shifter cables with spherical shifter bushings (Sold separately here) - Fully adjustable and solid bushings for the ultimate shifter setup. 
Fitment
All 1990-1998 MR2s
All 1985-1989 AW11s too. (Have to do a small mod, we're not sure so please do your homework)
Works with MR2Heaven Halo shifter trim kit - The highest angle setting will touch the trim kit (although it'll still shift without issue) - If you do not want any touching, we recommend installing our drop plate to eliminate the problem - Click here for more info
Notes
1x Nylon cap on small shifter end is included along with grease

MR2 Experts - 20+ years of experience.
Largest MR2 Parts Collection in the World
Have ideas, need something, have suggestions or questions? Hit us up!

Sales@MR2Heaven.com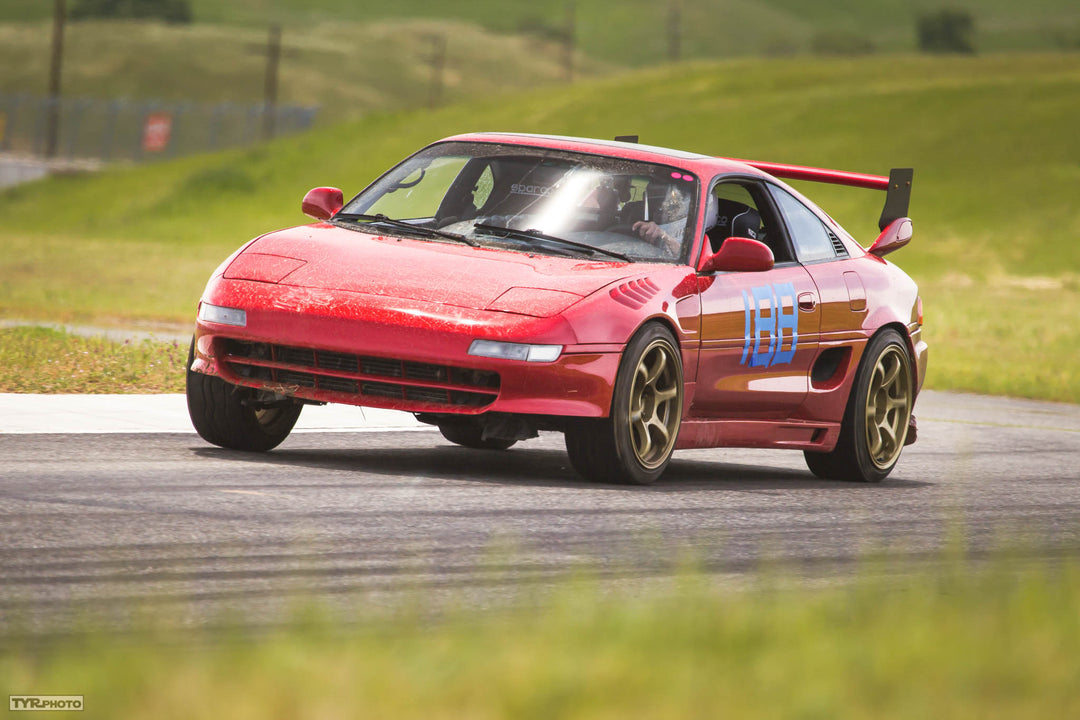 Passion drives everything we do at
MR2Heaven
Since 2002, we've been working to improve almost every aspect of the Toyota MR2, whether it's restoring it to its former glory or increasing its performance, efficiency, or style.
Our team of experts offers a wide range of OEM and aftermarket parts, as well as our own unique designs and engineering that can't be found anywhere else. We're dedicated to providing the best products at great everyday low prices and supporting the Toyota MR2 community with high-quality products.
If you have any new ideas, let us know – we're always looking for ways to bring your vision to life. Thank you for choosing MR2Heaven for all your Toyota MR2 needs.