This page is for pipes, clamps and hoses only. Does not include other parts such as intercooler, block off plate, fan shrouds etc. These pipes need aftermarket "greddy" style side mount intercooler core to work. For full intercooler kit, see here. Also have stainless pipes as well here.
NEW Version 2.0 - Redesigned Carbon Fiber Pipes (Applies to all new orders fulfilled after 3/1/2020). We've invested, upgraded and improved on our manufacturing processes and design for creating these carbon fiber pipes. The result? Higher quality, stronger, more durable, track ready premium carbon fiber piece that other companies only envy of being able to offer. A totally different level and quality pipe dubbed Version 2.0 See details below.
Version 2.1 (11/23/2020) - Introduction of our Forged Carbon Fiber Intercooler pipes
Version 2.1.1 (02/11/2021) - No BOV twist on block off cap released
Version 2.2 (2/25/2022) - Added new SPAL 600 and 800+ CFM variant fans for 500+WHP capability.

Version 2.3 (10/09/2022) - New Exclusive MR2Heaven intercooler cores - Increased 14-16mm of room for pipe adjustability/shorter inlet and outlet lengths, larger core, powder coated, better fitment and higher quality mounting tabs that are consistent and better placed
PURPOSE - Best peforming MR2 side mount intercooler kit on the market. Period.
Intake Air Temperatures (IAT) with OEM or aftermarket stainless steel/Aluminum pipes on an upgraded side mounted intercooler core setup can exceed 140-145F+ after 3 to 6 pulls when ran without proper auxilary cooling and temperature alleviating modifications. This brings us to the point that not all mr2 intercooler kits perform the same. At these temperatures, one can expect engine to pull 30-70+ WHP worth of timing, enough to ruin all your fun and enjoyment. This is percisely why MR2s fall flat around 2-3 pulls and it only gets increasingly worse. Fortunately, we have effective solutions for these problems so you can have all the fun with your MR2 throughout the whole drive without any limitations
With our solutions featuring heat insulating carbon fiber technology and up to a total of 3 fans (one monster of an 9" on the heat exchanger and 2x 12" engine bay cooling various components), we are currently seeing an average of 20-30F maximum increase over ambient on the race track or on the streets with or without traffic! With our fully optioned out solutions, our customers are seeing as high as 500+ WHP on the streets without running into temperature issues. You heard that right. On the dyno, multiple pulls at 460+ WHP utilizing 91 octane gas resulted in around 100-105F IATs, which is legendary on a side mounted MR2 intercooler as they are commonly known to perform very poorly after 300 WHP.

Game Changer - Featuring exclusive top notch CF pipes that other companies ENVY.
Firstly, Carbon Fiber as a material is an excellent thermal insulator against heat as it features thermal conductivity values that is 10x-40x lower than aluminum and stainless steel respectively.
Why it matters? Our exhaust manifold temperatures can reach 1200F+, valve cover temperatures hover around 185-260F+ and intake manifold/throttle body/pipes are literally too hot to touch without burning your hand. Physic states, objects will become equilibrium in temperature with its surroundings through a mixture of heat conduction and radiation. Ultimately, every side mounted IC MR2s greatly suffers from heating of intake air temperatures as that air is forced to travel through a gruesome hot and long path before it reaches our engine cylinders. This also puts unnecessary extra stress into the side mounted heat exchanger.

For those who say "its a short path and heat soak doesn't matter because of air velocity", go check out the large temperature differences and watch the detailed video. Keep in mind, those results are for Intake side and pipes not placed directly above MR2 motor/exhaust manifold but the physics are the same and the results/temperature differences on a MR2 are even greater, especially when you factor in our 2x 12" engine lid fans cooling everything up top.



https://youtu.be/rHXB4ljWHf4?t=1917




Air flow of side mounted fan is critical - Natural air flow velocity through poorly placed/designed side vent into heat exchanger mounted indirectly is dreadful
Second, our optional 800+ CFM SPAL fan pulls large amounts of airflow through the thick 4" restrictive intercooler core cooling fins with brute power to the point where you can easily feel with your hand on the other side of the core. The other 2 fans we offer, we cant feel much if any air being pulled through which brings us to another inherent problem of 90s design and mid engine layout of MR2, that is the natural air flow velocity from small vent on the side is inadequate for penetrating through entire heat exchanger core when car is in motion even at highway speeds.

Heat exchanger core actually sits quite some distance above the vent opening and at a large slanted angle. Imagine velocity of air flow when it has to fully twist 90 degrees twice to penetrate the core in such short distances. Not going to happen. Fortunately, our optional 800+ CFM air flow fan takes care of things




Do most owners even have air re-directing block off plates installed?
Dual 12" Engine Lid Fan Shroud - Renders entire top end of the engine bay, including intake manifold and pipes cold/cool to the touch
Third and lastly, our dual 12" engine lid fan shroud helps significantly in reducing recovery times, and temperatures around the engine bay, including the heat soaked "too hot to touch" intake manifold/throttle body/pipes. The 2x 12" fans being literally an inch away from those various important components, forces massive amounts of cool ambient air directly to help cool everything nearby. The end result is many components in the engine bay are literally cool/cold to the touch while the motor is running, including top half of the entire intake manifold, both pipes, throttle body, your intake air filter and more. Thats a huge temperature difference, from burning hot to touch to cold to the touch.
Many believe natural air cooling which goes from under the car and out of the engine lid is proper and the best method. We don't argue that hot air rises and it does but what actually happens is hot air from your motor and block rises and heats up your components. Don't believe us? That air flow is free - try it yourself - If your components aern't cool to the touch after, there is your answer.
Link to dual 12" engine lid fan shroud
Features and Advantages

Carbon Fiber Intercooler Pipe Advantages
Lowers Intake Temperatures - Excellent insulator – Great resistance to heat entering the piping/intercooler system (See reasons above)

Higher intercooler efficiency
Faster temperature recovery times
Pipes stay warm to the touch without fan shroud (and cold to the touch with dual 12" engine lid fan shroud) - Prevents pipes from becoming hot thus causing "heatsoak" and warming up air inside the pipes.
Less heat the heat exchanger is loaded with and has to battle against constantly
More horsepower and FUN throughout your whole drive.

Lightweight

The GEN2/3/5 Pipes (Both cold and hot pipes w/o BOV flange combined) weigh as much as a medium sized water bottle at

 

1.1 pounds!

 

Stainless Steel pipes would weigh 7lbs+

Rolled bead design on pipe connection ends helps prevent popped couplers
Reinforced End Sections -

 

For Version 2 (2020+)

 

To improve on our pipes for use under extreme scenarios such as circuit and track racing, the ends of the pipes have extra carbon layers for improved structural rigidity as well as an integrated metal ring on the hot side where pipe connects to turbocharger.
Reinforced Optional Universal Blow Off Valve Port

 

(New for Version 2, 2020+)

 

– Billet CNCed Aluminum BOV port with an additional milled protruding lip promotes better bonding with the pipe due to significantly increased surface area for mating. The pipe mold was redesigned and altered to create a flat surface at the blow off valve section to help better mate the CNCed aluminum port. At the mating connection between port and pipe is encapsulated by new high strength epoxy which ensures structural strength, durability and rigidity.
Exotic, modern and great to look at (Pair it up with some of our other CF engine bay offerings, like our dual 12" fan shroud panel for extra cooling)
Universal Interchangeable twist on BOV Flange System - Easily twist on different blow off valves with our numerous flange offerings - OEM, HKS, Greddy, TIAL and even our Blow off valve twist on delete cap)

Going BOV route and want option to run NO BOV? Not a problem. Click 

here, or check out our new twist on

 

BOV delete cap
Pipe also available with no BOV port

Smooth Insides

 

(NEW FOR V2 2020+)

 

– Gone are the days of high and low spots as seen on our v1 pipes. For our new updated Version 2 2020+ pipes, we've made strides in upgrading our manufacturing processes. By investing in numerous new molds to create rubber inflatable cores for use during pipe production, we were able to eliminate the use of generic bagging material which does not produce smooth surfaces when twisted, leaving high and low spots throughout the insides of the pipe. By utilizing new rubber inflatable cores that are pre-shaped exactly as our pipes instead ensures inside surfaces are smooth during curing and that the pipe has consistent pressure throughout every inch of the curing process. This new upgrade in manufacturing processes/technology ultimately increases pipe overall structural strength, rigidity, durability significantly and insides of these pipes are now super smooth. 
Made from 8+ layers of high quality and temperature PrePreg Carbon Fiber
Dyno tested 500+WHP capable on a 2.2L cammed stroker motor + GTX3076 on E85 and 460+ WHP on 91 Octane at around 100-105 IATs with 800+ CFM fan + dual engine lid fan shroud. 
Track tested and proven
Our intercooler kit with carbon fiber pipes has been tested and proven to lower intake temperatures significantly,thus increasing horse power and more FUN! Whether by datalogging with your ECU/sensors or physically touching components with your hand, the difference in temperatures is obvious and immediate. 
Intercooler Core Advantages
There has been at least 20+ different branded generic mr2 intercoolers on the market made by a dozen or more different manufactures all with different specifications, molds, jigs, blueprints, sizes, different internal cores, design, material, different QC and fitment issues throughout the past few decades. These intercooler cores are not made equally. Some cores are much smaller, many fit very poorly and some wont install at all, much less work with other attached components such as air block off/diverting plate, fan shrouds, pipes etc.
With that being said having come across major supply chain issues as well as numerous QC problems, we were fed up and have finally decided to improve on these cores by making our own for 2022+
Our aluminum end tanks will be casted from our exclusive molds for repeatability and consistency.

All components will be fitted in our exclusive jig before welding to ensure consistency and quality control

We will be using the widest and largest intercooler core on the market coming in at 200mm width x 235mm length x 100mm thick.
We have also shortened the inlet and outlet diameter lengths of the end tanks by around 10-12mm to allow more room for pipes to be adjusted by using space inside the silicone coupler, as well as to account for a rare minority of early 3SGTEs running into issues with the turbocharger compressor outlet being shifted very slightly from normal positions via the exhaust manifold offset positioning. Now there is significantly more room within the silicone hose coupler for pipe adjustments to clear obstacles such as strut braces and other pipes. This advantage is exclusive to MR2Heaven cores only

We've also adjusted tolerances and positioning of our red and yellow mounting  tabs to stick out past the 100mm thick core by 1.5mm only vs 4mm+ on the generic cores, especially when they randomly bend and weld tabs on (see our pictures of 3d scanned cores comparison). This also allows more room for adjustments, less gaps and better QC/consistency. 

A total of 14-16mm more room for pipe adjustment totalfrom the 2 design changes implemented above
Our mounting tabs are made of thicker high quality aluminum, CNC machined (not bent like others) and will always remain in the same various locations. Other cores out there, their mounting tabs literally CRACK OFF over time.
Intercooler core comes powder coated - Durable, clean looking and easy to clean. 
Intercooler Kit Advantages
Largest 9" Fan and lightweight aluminum shroud system (The biggest you can mount on this core to help maximize cooling) 
Our 9" shroud design is backwards compatible with SPAL branded fans

 

for the highest flow if needed. We are also the only MR2 company to offer SPAL fans with our products as of Feb 8, 2022 (the date i am writing this sentence). From our own testing, our 800+ CFM extreme duty SPAL 9" fan upgrade flows around48% more air

 

than the budget common 9" fan out on the market (which we offer by default option for those on a budget). To properly utilize the full potential of your SPAL fan, we recommend using our dedicated wiring harness to properly power it.

 

SPAL truly makes the best fans money can buy

 

and we highly recommend it
3D Scanned intercooler core, computer aided design (CAD) block off plate and fan shroud helps divert proper and maximum air flow into the intercooler core from the side vent! This allows us to create components for our kit that fits exactly as designed utilizing every millimeter of surface area from intercooler core. 
We used the best options and quality of light weight materials. There is no gaps and holes and blocking of the actual intercooler core like some kits out on the market which were designed out of guessing and tracing cardboard templates. We used a $20k 3D Scanner to aid our design process.
High Quality Constant Torque hose clamps ensures constant torque and helps prevent annoying popped hoses when compared to other clamps on the market. As far as we know as of 3/9/2021, we are the only vendor that offers this on our kits. 
High quality stainless steel hardware and high strength yellow zinc coated steel nylon lock nuts prevents rust and loose components under high vibration and loads, environmental factors and the most extreme use. 
Easily twist on different blow off valves with our universal BOV port system. 

As we design and produce every part including the intercooler core itself, fitment and QC is on point when used in conjunction with rest of our IC kit related components.

With our unmatched attention to detail and numerous advantages due to our relentless pursuit for improvements, we are confident our parts are made to the highest quality, most consistent and that we offer the best performing side mount system on the market today, period. 
While other side mounted systems encounter heat soak with around 320-350whp, our fully decked out system will handle 500 PLUS WHP before reaching similar temperatures.
Track ready and proven (Suggest ~450WHP for circuit racing use, for lower temperatures as well as engine longevity with our 800+ CFM SPAL fan)
Includes
1x CF Hot Pipe
1x CF Cold Pipe
Optional Constant Torque hose clamps and a set of MR2Heaven reinforced multi layered silicone couplers (+$50)
Notes
Supports GEN2, GEN3, GEN4 and GEN5 3SGTE. Does not fit the Authentic greddy intercooler core as they are different dimension (See our intercooler product page if you need a intercooler core)
OEM BOV flange works with OE GEN2/3 BOV, not OE GEN4 (That means you can throw a gen2/3 bov on a gen4 and it'll work, just cant throw a OE Gen4 BOV on the flange)
Important: Due to the manufacturing process we recommend thoroughly inspecting/cleaning the inside of the pipes prior to installation.
NEW OEM Twist on Blow off valve flange. HKS, Greddy, Tial also available.

MR2 Experts - 20+ years of experience.
Largest MR2 Parts Collection in the World
Have ideas, need something, have suggestions or questions? Hit us up!

Sales@MR2Heaven.com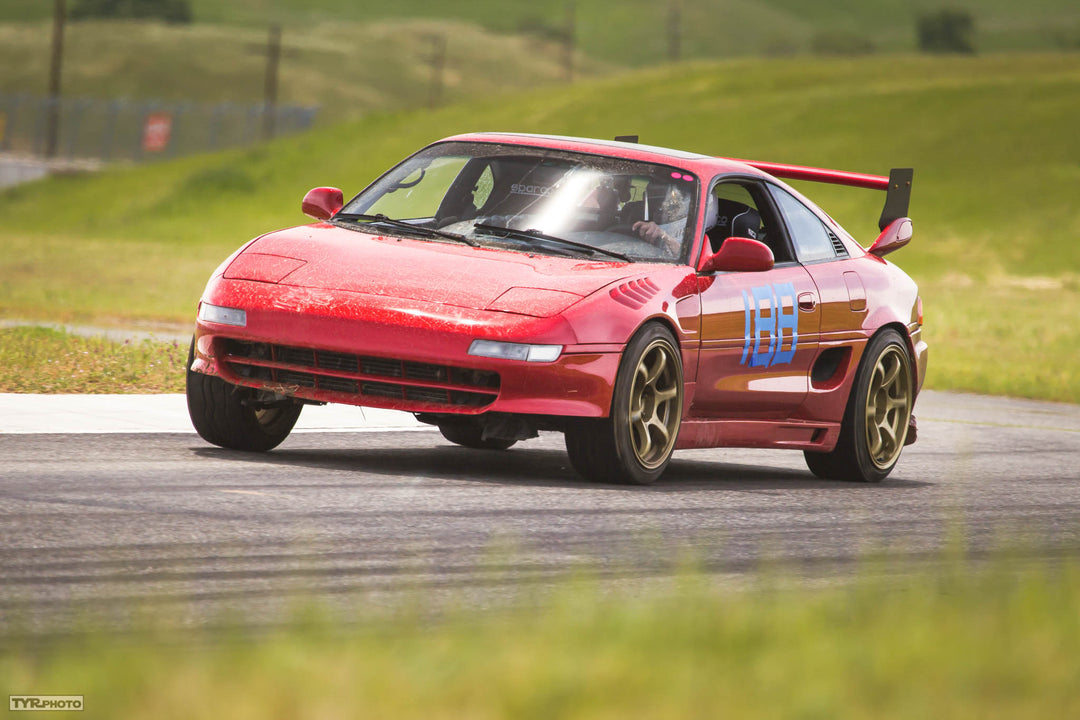 Passion drives everything we do at
MR2Heaven
Since 2002, we've been working to improve almost every aspect of the Toyota MR2, whether it's restoring it to its former glory or increasing its performance, efficiency, or style.
Our team of experts offers a wide range of OEM and aftermarket parts, as well as our own unique designs and engineering that can't be found anywhere else. We're dedicated to providing the best products at great everyday low prices and supporting the Toyota MR2 community with high-quality products.
If you have any new ideas, let us know – we're always looking for ways to bring your vision to life. Thank you for choosing MR2Heaven for all your Toyota MR2 needs.